ISBN 978-1-913167-07-3
Paperback A5, 488 colour pages
Published 2020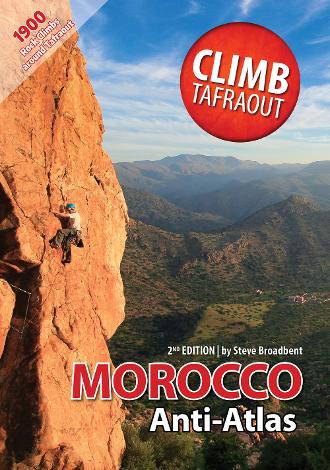 CLIMB TAFRAOUT | Morocco Anti-Atlas
Morocco's Anti-Atlas mountains are a paradise of adventurous traditional climbing, where winter sun, stunning scenery and an enchanting culture combine to create one of the world's most exciting climbing destinations.
This updated 2nd edition of the popular Climb Tafraout guidebook describes more than 1900 climbs in the Anti-Atlas region, covering the best crags across all of the main climbing areas. As well as detailed colour-coded photo topos and pitch-by-pitch descriptions, the guide makes use of superb GeoGraphics 1:25k and 1:50k topographic maps, with QR codes for each crag, buttress and parking spot, making it easier than ever to find your chosen route.
Climbs range from single-pitch roadside crag routes to big multi-pitch adventures, the longest of which involves some 1500m and 35 pitches of climbing. Among them are some of the most incredible climbs in this fascinating country, all enjoying glorious Saharan sunshine, short approaches and dazzling mountain scenery. As well as all of the popular quartzite crags, the guide describes a selection of easily accessible routes on the granite tors around the town of Tafraout, including both traditional and bolt-protected climbs. A variety of bouldering circuits are also listed.
ALMOST 2000climbs
Almost 2000of the very best Moroccan rock climbs, from Easy to E7, F4 to F8b.
Easy-to-use
We've colour coded all the climbs, and we've colour coded all the climbing areas, then put thumb-tags down the side so you can quickly find your way around.
All the BEST climbing areas
including Tafraout granite, Anergui, the Ameln Valley, Tarakatine Pass, Sidi M'Zal, Jebel Taskra, Idaougnidif, Afantinzar, Samazar, Aouguenz, Tagzene, and Tagmout.
Detailed background info
Everything you need to plan a trip, including when to go, how to get there, where to stay, where to get food, and what to do on your rest days, as well as a detailed history of Anti-Atlas climbing.
Look Inside