ISBN 978-0-9567288-1-4
A6 Paperback, 196 Colour Pages
Published 2012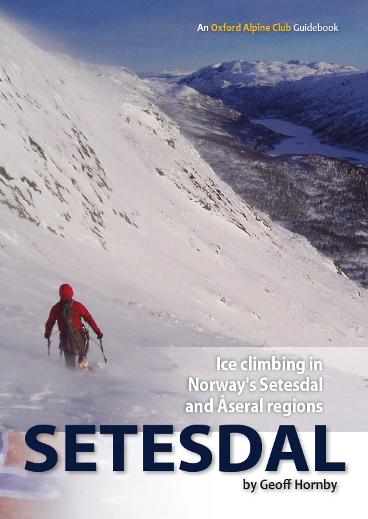 SETESDAL
Ice Climbing in Norway's Setesdal and Aseral Regions
by Geoff Hornby
"Geoff and his team had stumbled upon a world-class destination, and they'd evidently had an abundance of fun and adventure in its exploration..."
Located in southwest Norway, the Setesdal valley is one of Europe's hidden climbing gems, providing world-class routes throughout the year. When the long winter draws in, the huge granite walls and towering waterfalls become an ice-climber's paradise.

Away from the crowds that descend upon nearby Rjukan each winter, Setesdal is rural Norway at its best. There's everything here from roadside ice crags, to full-day ice epics; routes spanning the grade range from WI2 to WI7. Add to that frequent cheap flights, easy access from Oslo, ample comfortable accommodation, and some of Europe's most reliable roadside ice, and you've a destination not to be missed.

Geoff Hornby's new Setesdal Ice guide is set to put this world-class destination well and truly on the map for British and European ice-climbers, providing a serious alternative to Rjukan. You can find out more about the climbing, including weather links and condition reports, on www.climb-setesdal.com
Features 150 routes
from WI 2 to WI 6ranging from roadside top-ropes to full-on alpine adventures, including some of Norway's greatest ice lines.