ISBN 978-1-913167-03-5
Paperback A5, 112 full-colour pages
First published 2017.
Second Edition published 2020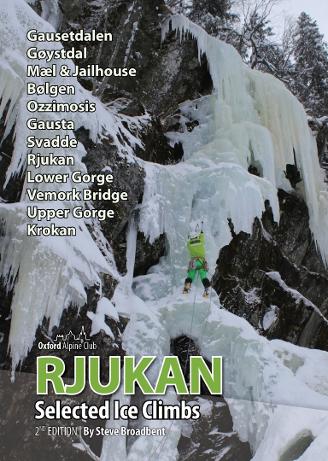 Rjukan | Selected Ice Climbs
Whether you're looking for full-day adventures or straightforward ice cragging, Rjukan is a climbing destination not to miss...
Amongst the various sectors of the main gorge you'll find some of Norway's most famous ice routes, from the intimidating test-piece climbs in the majestic Upper Gorge, to the fantastically accessible icefalls at Vemork Bridge, and the pleasant cragging in the Lower Gorge.
Further downstream, and in stark contrast to the confines of the gorge, the steep valley walls above Rjukan town centre, Svadde and Bolgen offer long, open multi-pitch climbs up to 17 pitches in length, some of which are floodlit at night.
Further afield, the remote and committing amphitheaters of Mael and Kong Vinter provide an escape to the crowds, whilst the roadside ice crags of Ozzimosis and Krokan rank amongst the most famous ice climbing venues in the world.
Features 220 climbs
From WI2 to WI7 and M10, including everything from roadside top-ropes to 17 pitch adventures and multi-pitch test-pieces.
Easy-to-use
We've colour coded all the climbs, and we've colour coded all the climbing areas, then put thumb-tags down the side so you can quickly find your way around.
All the BEST climbing areas
including Gausetdalen, Goystdal, Mael, Jailhouse, Bolgen, Ozzimosis, Gausta, Svadde, Rjukan, Lower Gorge, Vemork Bridge, Upper Gorge, and Krokan.
Detailed background info
Everything you need to plan a trip, including when to go, how to get there, where to stay, where to get food, and what to do on your rest days, as well as an overview of Rjukan's fascinating industrial and military history.
This is the 2nd edition of this popular guidebook, featuring minor cosmetic changes to bring it up-to-date and inline with more recently published OAC titles. It contains the same routes as the 1st edition.
Look Inside
Oxford Alpine Club's Rjukan guidebook is your essential companion for a memorable climbing trip, helping you get the most out of a visit to what is arguably Europe's best ice climbing destination. You can read some sample pages from the book below...