ISBN 978-1-913167-14-1
Sewn Binding A5, 112 colour pages
5th Edition published 2022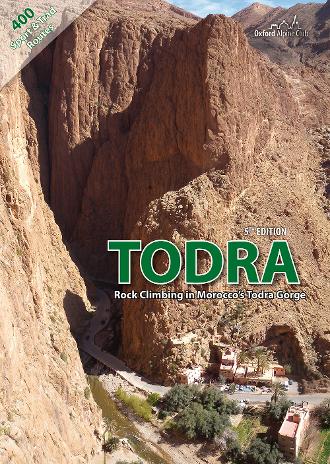 TODRA - Rock Climbing in Morocco'sTodra Gorge
Lying on the southern fringe of the High Atlas Mountains is one of Morocco's premier climbing destinations - the magnificent Todra Gorge. Here, bathed in year-round sunshine, you will find a climbing experience like few others: an enticing blend of sport, adventure and exotic culture...
The gorge is home to over 450 recorded routes, and whilst most of them are fully bolted sport climbs there are also some long, adventurous traditionally protected routes on stunning vertical walls. Sunshine and shade is available throughout the year, making this one of the few places in Morocco where it is possible to climb year-round, whether you're looking for single pitch, low-commitment sport cragging, or 10-pitch bolted adventures.
This latest edition is the most comprehensive and up-to-date topo currently available for this exotic climbing destination, featuring photo topos for 39 of Todra's most famous and popular climbing sectors, alongside detailed maps and background information.
Features More than 450 climbs
from F4 to F8, including:
35 routes at F4
35 routes at F5
56 routes at F5+
219 routes at F6
121 routes at F7 and above
Easy-to-use
Colour-coded routes make it easy to pick sectors based on grades.
Something for everyone
...from roadside Grade 4 sport crags to Todra's historic big trad routes.
Background info
Everything you need to plan a trip, including when to go, how to get there, where to stay, and where to get food.