ISBN 978-1-913167-13-4
Paperback A5, 130 full-colour pages
First published 2022.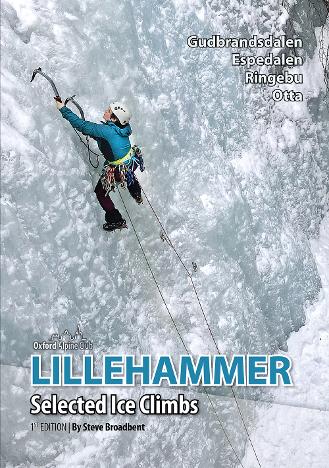 Lillehammer| Selected Ice Climbs
Less than two hours drive north of Oslo, in the heart of Gudbrandsdalen, lies the famous Olympic ski resort of Lillehammer. As well as some world-class skiing, this region is home to a superb collection of easily accessible ice climbs which help to make Lillehammer one of Norway's best winter climbing destinations.
Away from the crowds of the more famous Rjukan valley, the icefalls here have a more adventurous and untouched feel to them, despite most of them being within a short walk of the road. There's a good mix of long multi-pitch classics as well as roadside ice crags and top-roping venues, and with so much great skiing on offer, this is an ideal venue for a combined ice-climbing and skiing trip.
The valley caters particularly well for low- to mid-grade climbers, who will enjoy a mouth-watering collection of icefalls in the WI3 to WI4 grade range.
Look Inside
Oxford Alpine Club's Lillehammer guidebook is your essential companion for a memorable climbing trip to this hidden gem of European ice climbing.
Preview coming soon...
This guidebook is due for publication in winter 2022-23