ISBN 978-0-9567288-0-7
Paperback 197mmx132mm
280 Colour Pages
Features 650 climbs
from Easy to E6
Easy-to-use
We've colour coded all the climbs, and we've colour coded all the climbing areas, then put thumb-tags down the side so you can quickly find your way around
More than 50 Crags
Detailed background info
Everything you need to plan a trip, including when to go, how to get there, where to stay, where to get food, where to get your car fixed, what to do on a wet day, what nasty wildlife awaits you, what to do in an emergency, and just about everything else you could wish for.
MOROCCAN ANTI-ATLAS NORTH
by Steve Broadbent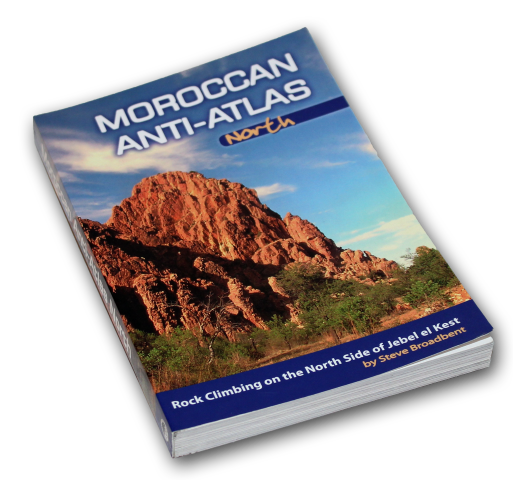 Morocco's Anti-Atlas mountains are a unique playground for the adventurous climber, where perfect weather, miles of sun-drenched orange rock, stunning scenery and an enchanting culture combine to create one of the world's most exciting rock climbing destinations. With frequent flights from the UK, easy access by road, accommodation to suit all budgets and a rich and diverse culture, the quartzite mountains around Tafraoute are rapidly becoming a 'Mecca' for British climbers seeking an alternative winter-sun destination.

This comprehensive guidebook details 55 crags and more than 650 routes, from moderate to E6, spanning every genre of traditional climbing from roadside single-pitch desperates to 800m alpine ridge climbs. With clear photo-topos throughout, as well as the area's first detailed and accurate maps, Moroccan Anti-Atlas North will not only be essential reading for first-time visitors, but is set to become the definitive guide for all climbers visiting this rapidly-developing
destination.
Our Philosophy is to provide all the information a climber will need in one easy-to use book... Everything from flight information and maps to get you there, to hotel details and climate and cultural information, as well as the most accurate climbing information ever compiled for this region. Moroccan Anti-Atlas North features:
Clear, detailed, easy-to-use photo-topos for 55 previously undocumented crags on the north side of Jebel el Kest.
Accurate maps, published here for the first time.

Information for travellers, including flights, car-hire,accommodation, and eating out in Tafraoute.

Action photos, historical information and anecdotes from first ascents throughout the Anti-Atlas mountains.