Sold as a set of 2 volumes
ISBN 978-0-9567288-2-1
Paperback 197mmx132mm
822 colour pages (in 2 volumes)
Features almost 2000 climbs
from Easy to E7, F4 to F8b, including:
561 below HS
741 between MVS and HVS
590 between E1 and E3
60 of E4 and above
39 sport routes
Easy-to-use
We've colour coded all the climbs, and we've colour coded all the climbing areas, then put thumb-tags down the side so you can quickly find your way around
More than 150 Crags
More than any other guide to the Anti-Atlas region
All the climbing areas
including the Ameln Valley, Sidi M'Zal, Idaougnidif, Afantinzar, Samazar, Tagzene, Tagmout, Jebel Taskra, and Tafraout Granite
Something for everyone
Whether you're after hard cragging testpieces, or long easy mountain days, this guide has it all... from bouldering problems, 8-metre micro-routes, to big multi-pitch crags and full-day mountain adventures
Detailed background info
Everything you need to plan a trip, including when to go, how to get there, where to stay, where to get food, where to get your car fixed, what to do on a wet day, what nasty wildlife awaits you, what to do in an emergency, and just about everything else you could wish for
Advice for people without a car
Which crags are easiest to get to, and info on hitching lifts and finding taxis
Advice for families
Sometimes you end up climbing with the kids, and for that you need practical advice about where's best to go
TAFRAOUT - Rock Climbing in Morocco's Anti-Atlas
by Steve Broadbent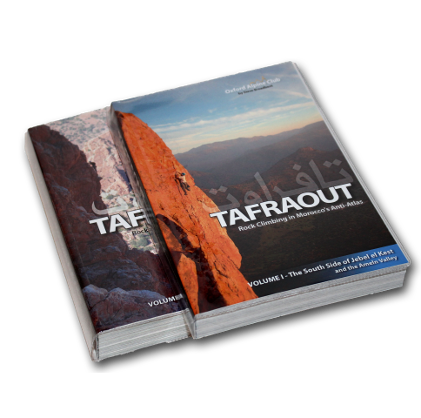 At last... the long awaited Tafraout guidebook, combining all the previous guidebooks to create a single guide to this paradise of adventure-trad climbing. Now includes 2000 climbs, described in more detail than ever before, with all-new full-colour topos throughout, and the most detailed and accurate maps ever drawn of this amazing region. The OAC's previous north-side guidebook team have joined forces with original Cicerone guidebook author Claude Davies to create the definitive guide to the Ameln Valley, the north side of Jebel el Kest, and the outlying Jebel Taskra massif, not to mention the fascinating sport climbing around Tafraout itself, selected bouldering, and a collection of desperate granite cracks that'll even keep you busy on a rest day!
This guide leaves no stone unturned in its quest to provide everything you need for a memorable winter-sun trad-climbing trip... from thorough background information and easy-to-follow maps, a detailed 'crag selector', advice on travel and use of public transport, to suggestions of things to do in the local area. And for those who want to retain a sense of adventure in these days of super-detailed guidebooks, it has plenty of suggestions, hints at unclimbed projects, and a few deliberately vague days out... with just enough to get you started in the right direction!

It's packed full of action shots, clear topos, and more climbing than you could ever hope to accomplish. Split into two volumes, it's designed to fit into the lid of a daysack, and comes in a protective plastic cover to prevent wear and tear.